So, I got an awesome award from
Cindy
:D
It's the Tell Me About Yourself Award :D
Thanks, Cindy!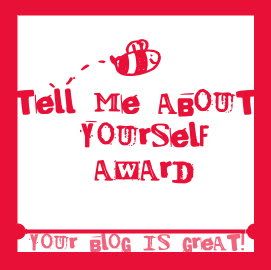 Yay! I feel so special :3 She thinks my blog is great! :D
So, the rules are to say seven stuff about yourself and to tag seven other people. :)
So, the seven stuff:
1. I am extremely self-conscious. I am aware of everything I am doing (I rarely ever space out), I always make sure nothing weird is on my face and other pointless stuff like that. Basically, I just always need to make sure that I look, like... normal.
2. I love oldies. You probably already know this. But whatever. I love oldies. Okay? I love them. 'Nuff said.
3. I loved Barbies when I was little. If I went shopping with my parents, they'd have to buy me a Barbie to get me to calm down enough to try on clothes and shoes and whatnot.
4. I love black. I love black clothes more than clothes of any other color. No, I'm not goth. Just that black goes with everything. And I don't have to worry "Hmm... does this outfit match?" Because if there's black in it then yes it does!
5. When I was little, I accidentally broke off my Ken doll's head when I tried to fit him into my toy Volkswagen Bug and I taped it back on. :)
6. I can't choose between two colleges right now. It's so DIFFICULT! *Sobs* I have decided to suffer through living at home and just go through college and university for Psychology. For one: I love Psych too much. Secondly: Do you know the pay for Psychologists with Ph.Ds?! HOLY SMOKES. It's like fifty bucks an hour! Pretty good. :)
7. Can't think of anything else. :)
Now, on to passing this award on to seven people! I would pass it on to Cindy, but she gave it to me so that would be pointless.
Clicks and Cuts
Moon Lore
Bhadrawr
Hi I'm David
Viva La Breee
The Rambling Person
<3